1976 P Washington Quarter
---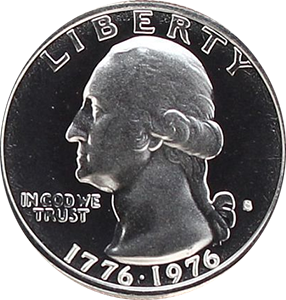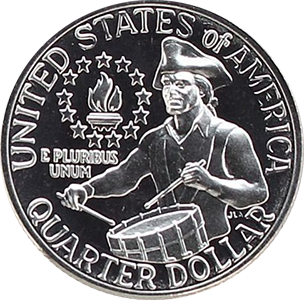 Coin Dealer Insight: For the first time since 1964, silver was used in quarter production, but only as a special minting for proof sets from the San Francisco mints for the Bi-centennial Washington quarter. Only 7 million silver quarters were produced and the date mark was 1976 instead of the 1776-1976 date stamp for circulation 1975-6 Washington quarters. These proof coins are the only Washington quarters with the 1976 date stamp. What about the 1975 Quarter? As a part of the Bi-centennial celebration of U.S. Independence, coins from 1975 through 1976 were struck with the 1776-1976 as the date stamp. Because of the desire to celebrate the Bi-centennial and to reduce the numbers of quarters held out by collectors, well over 1.6 billion Bi-centennial Washington quarters were struck between the Denver and Philadelphia mints.
Value: Can usually be found and sold for somewhere between $0.26-$15.00 price dictated by condition, certification, and current demand. Other factors include location, inventory, and urgency of sale.
Price Chart : Estimated Value Based on Scale
Mint: Philadelphia
Production: 809,784,000 Washington Quarters were minted at the Philadelphia mint in 1976.
Popular Washington Quarters

1935 S Washington Quarter

1973 P Washington Quarter

1994 S Washington Quarter

1959 D Washington Quarter

1939 P Washington Quarter

1990 P Washington Quarter

1988 P Washington Quarter

1987 S Washington Quarter

1976 S Washington Quarter

1968 D Washington Quarter
---
---