1991 S Washington Quarter
---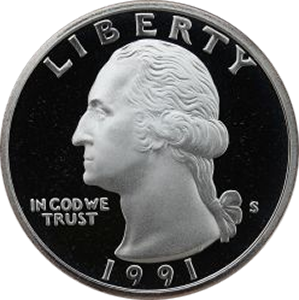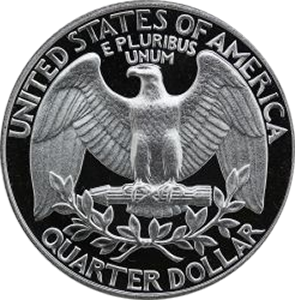 Coin Dealer Insight: 1991 was another year with production of Washington quarters above the 1.2 billion coin range. Although somewhat lower than the previous year, such high production levels keeps the 1991 Washington quarter in the "common" value range.
Value: Can usually be found and sold for somewhere between $0.60-$2.40 price dictated by condition, certification, and current demand. Other factors include location, inventory, and urgency of sale.
Estimated Value Based on Scale:
VG-8 $0.60
F-12 $0.90
VF-20 $1.20
AU-55 $1.80
MS-63 $2.10
MS-65 $2.40
Mint: San Francisco
Production: 2,867,000 Washington Quarters were minted at the San Francisco mint in 1991.
Popular Washington Quarters

1988 D Washington Quarter

1979 S Washington Quarter

1981 P Washington Quarter

1998 S Washington Quarter

1987 P Washington Quarter

1940 D Washington Quarter

1960 D Washington Quarter

1943 D Washington Quarter

1939 S Washington Quarter

1935 D Washington Quarter
---
---