50 State Quarters, Values, and Errors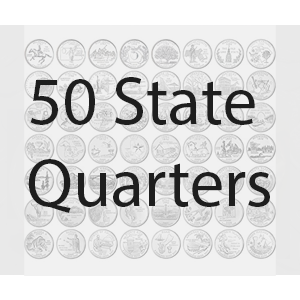 The 50 State Quarter series was launched in 1999. The purpose was to honor each state. The coins would be released in the same order that the states joined the union. The front (obverse) of each coin is the same if you discount the mint marks. The reverse images would detail the states individual achievements, monuments, as well as flora and fauna.
The 50 State Quarters program was a great win for the coin community, as they brought new interest to the hobby. 15 new coins were issued every year for 10 years.
In terms of coin error hunting there really is no better place to search. There are still many error types yet to find a decade later.
We took original high resolution images of all the coins in this list. We researched all the major errors, and values. Hopefully this is a unique resource that you will find helpful. Please be sure to share with your friends. Thanks!
---