?>
Washington Quarter Key Dates & Errors
---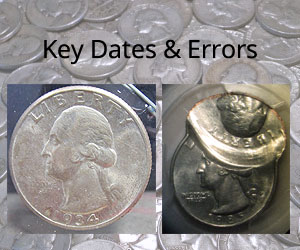 There are about a dozen or so common errors and a few key dates to look for when searching and collecting Washington Quarters. A quick summary would include heavy and light mottos, double die obverses, years 1932 S & D,1933 (none), 1934 Light + Heavy Mottos, 1934 DDO, 1937 DDO, 1942 DDO (Denver), 1950 S over D. For photo examples, further details, and more key dates and errors read the rest of the article.
Enjoy! If you like the article please be sure to share this page with your pals.
Hit Ctrl+D on PC to bookmark this page now!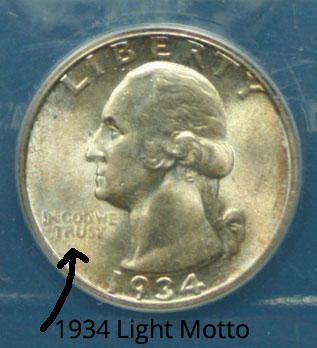 1932-S and 1932-D - Since 1932 was the first year of production for the Washington quarter, most of them were produced at the Philadelphia mint. This means that the quarters produced at the Denver and San Francisco mints have significantly higher values than those from the Philadelphia mint, even in lower grade conditions.
1933 - There were no Washington quarters produced in 1933.
1934 Light Motto - Although the Washington quarter is well known for high quality strikes, many 1934 quarters produced at the Philadelphia mint have a light motto. Unfortunately, so many were produced that only those quarters with MS-63 and above that evidence the light motto strike hold significantly higher values.
1934 Heavy Motto - Just like the 1934 Light Motto...just the opposite. The 1934 Heavy Motto is a heavy In God We Trust.
1934 DDO - 1934 DDO (Double Die Obverse) can usually be seen on the "In God We Trust".
1937 DDO - 1937 DDO (Double Die Obverse) can usually be seen on the "In God We Trust", as well as the date "1937".
1942 Denver DDO - 1942 D (Denver) DDO (Double Die Obverse) can be noticed by looking at the L in liberty as well as the "In God We Trust".
1944 DDO - 1944 DDO Quarter see example with double "1944".
1950 S over D - The mint went back and stamped an S over the D in an effort to distribute the 1950 Quarter. They have done this sort of thing often throughout the mints history.
1951 to 1964 - Due to vastly expanded production of the Washington quarters from all mints, the value for even highly graded quarters drops dramatically.
1954-S - 1954 - The last year Washington quarters were produced at the San Francisco min. Unfortunately, due to very high production, these quarters hold no higher value than 1954 quarters produced at other mints. Although production of Washington quarters did resume at the San Francisco mint in 1969, these were for mint sets only and any quarters with an S mint mark are only from broken mint sets.
1776-1976 S Silver - This was a special issue release for the bicentennial and have a value some ten times higher than other 1776-1976 Bicentennial Washington quarters.
---
Error Coins
Whether by accident or by design, there is only one real set of Washington Quarter error coins: the 1950 D/S and S/D overstrikes. Apparently there was a mix-up when new dies were sent to the Denver and San Francisco mints and many overstrike coins were produced.
Clips: There are many instances of quarters that have been clipped either slightly or clipped hard.
Die Cracks: When dies wear out they crack from usage. They then leave die crack marks when striking the quarter. These coin are usually worth just slightly more than the non error counterpart.
Off Center Strikes: When the die strikes the planchet off center it creates goofy looking strikes that seem to look like they were made with a play-dough fun factory mint set. :)
---
Conclusion
Since the Washington quarter was constructed with a bold design and wasn't redesigned until the 1776-1976 Bicentennial release and the Statehood quarters starting in 1999, there are no design changes or flaws as there have been in other US coins. However, keeping the main key dates in mind as well as the overstrike errors, you can still find high value coins in the Washington quarter series.
Did this page help you? If so please be sure to share this page with your friends.
Hit Ctrl+D on PC to bookmark this page now!
References: Wikipedia Die Crack
---