1968 P Washington Quarter
---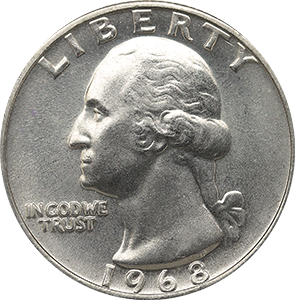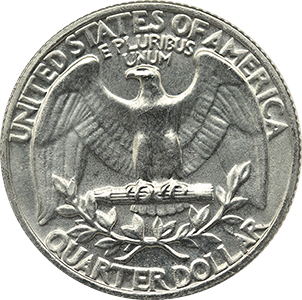 Coin Dealer Insight: 1968 saw the return of the mint marks to quarter production and a dramatic decrease in quarter production as well. Between the Denver and Philadelphia mints, only 321 million quarters were minted. Also, the San Francisco Mint, which stopped producing circulation Washington quarters in 1955, restarted production of Washington quarters in 1968, but only as a part of proof sets. Prices for circulation 1968 Washington quarters stands at "common" value.
Value: Can usually be found and sold for somewhere between $0.26-$23.00 price dictated by condition, certification, and current demand. Other factors include location, inventory, and urgency of sale.
Price Chart : Estimated Value Based on Scale
Mint: Philadelphia
Production: 220,731,000 Washington Quarters were minted at the Philadelphia mint in 1968.
Popular Washington Quarters

1937 P Washington Quarter

1939 S Washington Quarter

1949 P Washington Quarter

1984 D Washington Quarter

1973 D Washington Quarter

1957 D Washington Quarter

1971 P Washington Quarter

1994 D Washington Quarter

1936 P Washington Quarter

1969 P Washington Quarter
---
---