1967 P Washington Quarter
---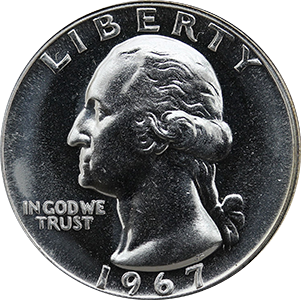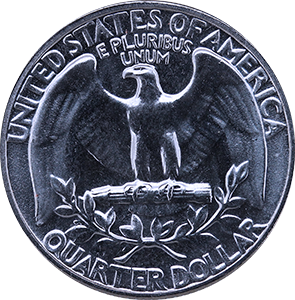 Coin Dealer Insight: 1967 saw a further push to extricate silver coinage from circulation with some 1.5 billion 1967 Washington quarters produced. Again, due to such high production, values for 1967 Washington quarters are "common". Also of note, regardless of where a quarter was struck, no mint marks were used for 1965. 1966 and 1967 quarters and no proof sets were struck in 1965, 1966 or 1967 as well.
Value: Can usually be found and sold for somewhere between $0.26-$12.50 price dictated by condition, certification, and current demand. Other factors include location, inventory, and urgency of sale.
Price Chart : Estimated Value Based on Scale
Mint: Philadelphia
Production: 1,524,031,000 Washington Quarters were minted at the Philadelphia mint in 1967.
Popular Washington Quarters

1993 D Washington Quarter

1953 D Washington Quarter

1949 P Washington Quarter

1970 D Washington Quarter

1960 P Washington Quarter

1981 P Washington Quarter

1994 S Washington Quarter

1963 P Washington Quarter

1992 S Washington Quarter

1995 P Washington Quarter
---
---